Charlotte, NC Real Estate Market Trends & Analysis 2019
Key Takeaways
---
The Charlotte real estate market has managed to keep relative pace with the national market. Thanks, in large part, to an influx of new buyers seeking attractive job opportunities and affordable prices, Charlotte homes have become a commodity in just about every real estate circle, and investors are no exception. In fact, real estate in Charlotte appears to favor those with aspirations of both building a rental portfolio and rehabbing assets. The unique market indicators currently lifting up the Charlotte housing market should help investors, at least for the foreseeable future.
Charlotte Real Estate Market Overview
Median Home Value: $227,800
1-Year Appreciation Rate: 6.8%
Median Home Value (1-Year Forecast): 3.3%
Median Rent: $1,525
Average Days On Market (Zillow): 56
---
[ Thinking about investing in real estate? Learn how to get started by registering to attend a FREE real estate class offered in your area. ]
---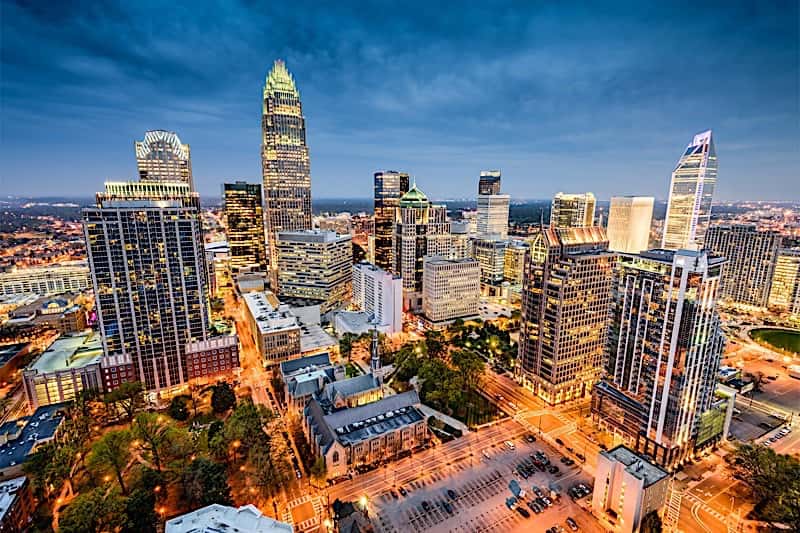 Median Home Price Charlotte
The median home value in the Charlotte real estate market is in line with the national average, $227,800 and $229,000 respectively. It is worth noting, however, that real estate in Charlotte has seen slightly more movement to get to where it is today. In the last year (June 2018 to July 2019), the median home value in Charlotte increased 6.8%. The median home value across the United States, on the other hand, saw median home values increase approximately 5.2% over the same period. Perhaps even more importantly, it looks as if the Charlotte housing market will maintain its faster pace for the foreseeable future.
The slightly faster pace may be due largely, in part, to Charlotte's latest propensity towards population growth. Charlotte is one of the country's fastest growing metros, adding upwards of 100,000 people every year. "With a projected 23.7% increase in population from 2014-2025, the area will soon hold a total of 2.8 million people," according to HomeUnion, Inc. The area's low cost of living and increasing number of job opportunities are giving more and more people each year a reason to call the Charlotte real estate market home, which bodes incredibly well for investors that have already positioned themselves to take advantage of the growing number of people who need homes.
Charlotte Foreclosure Statistics
RealtyTrac, a nationally recognized real estate information company and online marketplace for distressed homes, has identified 942 homes in some sort of distress: default, auction or bank owned. Contrary to national trends, the Charlotte real estate market has actually seen an increase in foreclosure filings. According to the real estate information company, "In July, the number of properties that received a foreclosure filing in Charlotte, NC was 15% higher than the previous month and 6% higher than the same time last year."
Of the distressed homes identified by RealtyTrac, auction homes saw the largest year-over-year increase, jumping 20% from this time last year. After the increase, auction homes now represent 29.3% of all the distressed properties in the Charlotte real estate market. On the decline from last year, bank-owned homes now represent the smallest portion of distressed homes in Charlotte. At 57.1%, however, the overwhelming majority of distressed homes in the Charlotte real estate market are pre-foreclosures; that means more than half of the distressed homes in Charlotte are merely at risk of falling into foreclosure.
Regardless of their current status, distressed homes represent a unique opportunity for Charlotte real estate investors. Distressed homeowners are much more likely to sell quickly and at a discount, which bodes well for investors who know exactly where to look. For a better idea of where the largest distributions of distressed homes are in Charlotte, here's a list of the top five neighborhoods:
28208: 1 in every 1,057 homes is currently distressed
28216: 1 in every 1,064 homes is currently distressed
28269: 1 in every 1,069 homes is currently distressed
28215: 1 in every 1,105 homes is currently distressed
28227: 1 in every 1,239 homes is currently distressed
Charlotte Real Estate Investing
The Charlotte real estate investing industry has two indicators working in its favor, perhaps more than anything else: demand and affordability. With a median home value of $227,800, the Charlotte real estate market is in line with the national average. However, forward-looking indicators suggest real estate in Charlotte has more room for appreciation. Whereas the United States is expecting median home values to increase by about 2.2% over the next 12 months, real estate in Charlotte could see values rise by as much as 3.3%. As a result, it looks as if homes in Charlotte are more likely to maintain their value (and improve upon it) in the near future. The increase, however, is likely due to the increase in demand and local job opportunities. That means investors who get in now may not only benefit from appreciation, but increasing demand for their final products; it's really the beginning of a perfect storm for Charlotte real estate investors.
Charlotte Real Estate Market Summary
The Charlotte real estate market is currently leaning in favor of sellers. If for nothing else, prices have appreciated in Charlotte at a faster pace than the national average. However, despite recent increases, it appears as if there is still room for appreciation on the horizon. That said, investors who acquire real estate in Charlotte can still expect home values to increase, albeit at a modest pace. Perhaps even more importantly, however, is the influx of interested buyers looking to call Charlotte home. With a growing population and expanding job market, more and more people are looking for a home in Charlotte, and well-positioned investors should be able to provide them with what they need.
Have you thought about investing in the Charlotte real estate market? If so, what are you waiting for? We would love to know your thoughts on real estate in Charlotte in the comments below.
*The information contained herein was pulled from third party sites. Although this information was found from sources believed to be reliable, FortuneBuilders Inc. makes no representations, warranties, or guarantees, either expressed or implied, as to whether the information presented is accurate, reliable, or current. Any reliance on this information is at your own risk. All information presented should be independently verified. FortuneBuilders Inc. assumes no liability for any damages whatsoever, including any direct, indirect, punitive, exemplary, incidental, special, or consequential damages arising out of or in any way connected with your use of the information presented.
The post Charlotte, NC Real Estate Market Trends & Analysis 2019 appeared first on FortuneBuilders.
Read More
Disclosure : Anunlimitedamountofmoney.com is a participant in the Amazon Services LLC Associates Program, an affiliate advertising program designed to provide a means for sites to earn advertising fees by advertising and linking to Amazon.com.
Some of the links in this post are affiliate links. This means if you click on the link and purchase the item, We will receive an affiliate commission at no extra cost to you. Please read our disclosure for more info.